The Easiest Way to Make Your Own Wednesday Addams Costume 2023
The Addams Family show on Netflix has inspired a whole new generation of gothic style. Wednesday's wardrobe is always black and white. Here we are going to show you the easiest way to make your own Wednesday Addams costume for both adults and kids.
Step one: Get a black dress. A narrowed waist and flared hem will make the Wednesday Addams Costume more realistic. If no black dress can be found in your wardrobe, a crew neck and a flared skirt would totally work.
Step two: Cut a white shirt into a bib by cutting out the top. So all we have is just the collar.
Step three: Wear the collar under the black dress and your Wednesday Addams Costume is all done.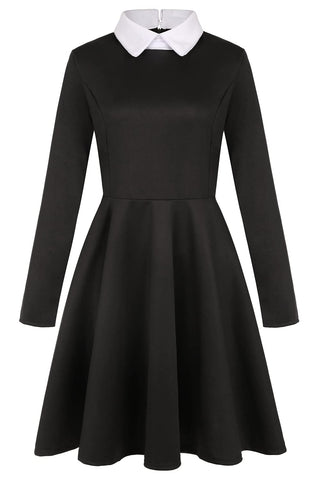 If you would like to save the hassle, Hallowitch costumes provides you the collection of Wednesday Addams Costumes from the above black dress to her Rave'N dance dress.